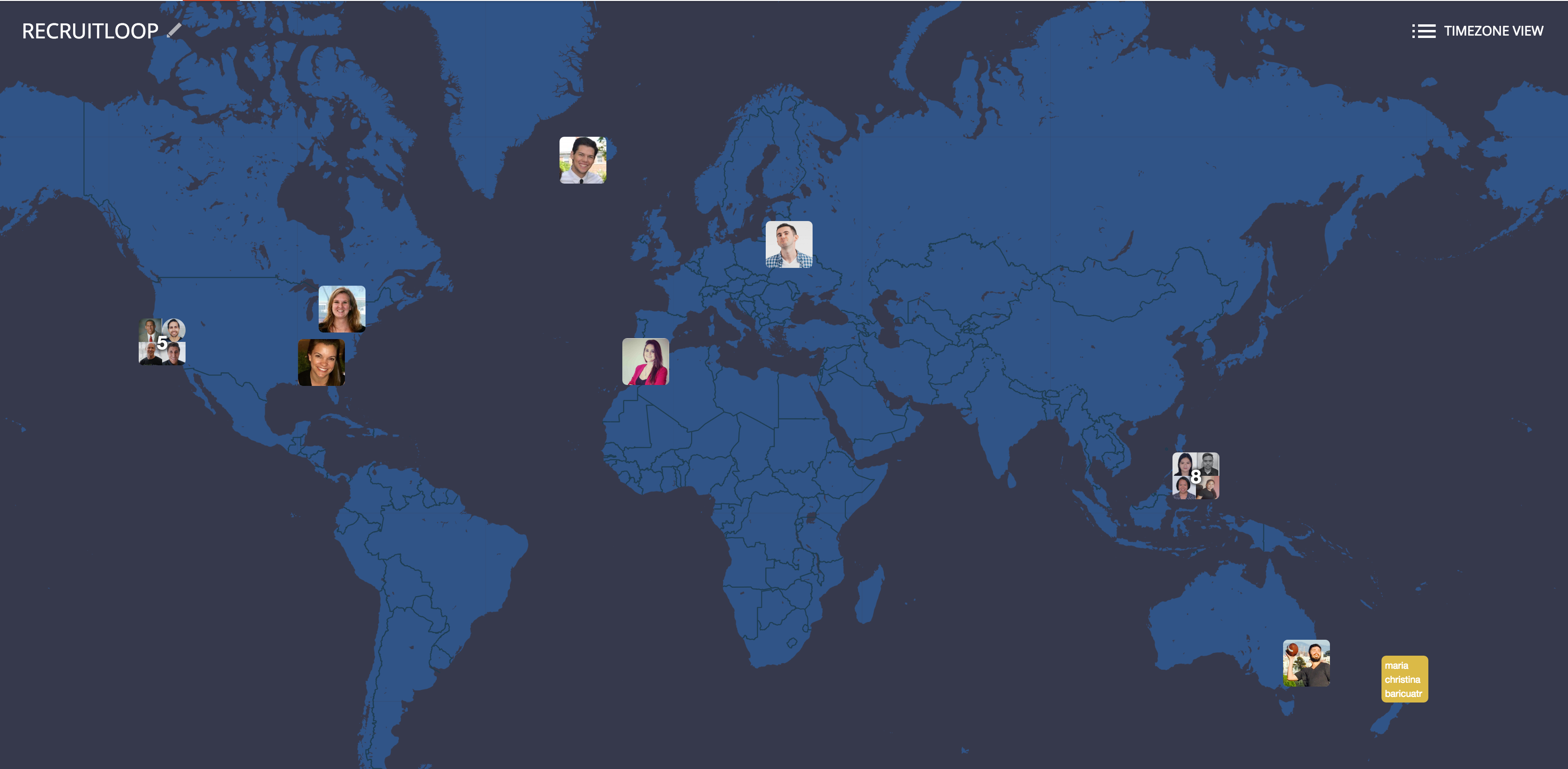 Last month RecruitLoop shifted from a remote 'friendly' company to 'Remote First'. This wasn't a huge shift as we've had remote in our DNA from the very beginning. But it was an important change, that pushed us to formalise our thinking and philosophies around remote work.
Below is an internal blog post I shared with the team in early September, along with a presentation I gave on 'Building Culture in Remote Teams' (for a group of HR people in San Jose). In combination they form our current thinking on making a Remote First environment the best possible 'place' to work.
Going Remote First
Version 1.0 - 8 September 2016
We've always worked hard to build a remote-friendly culture. This was partly driven by necessity, with our team spread across the US, Australia and Philippines. But also by design – we believe it's the future of work, is fully aligned with our marketplace model, and means we can build the best team, with people working anywhere.
This month we moved to a smaller office space, and for the first time have fewer desks than people in San Francisco. On any given day, more of us will be working remotely than will be together in the office.
I think it signifies our transition from a 'remote-friendly' to 'remote-first' company.
It seems the right time to formalise our philosophy around remote work. This doc aims to clarify our commitments and expectations for 'remote-first'.
This is unlikely to change anything for us on a daily basis. But it will hopefully provide clarity and transparency around our operating model, and expectations for how we work together.
What does remote-first mean at RecruitLoop?
Core Principles
Transparency. Bias to transparency, in almost any situation. Share what you're working on, where you're working from, and how you're feeling.
Communication. Bias to over-communication. This helps with transparency, and also avoiding silos or isolation.
Accountability. Do what you say, get shit done, deliver to deadlines and goals.
Trust. Trust each other, and that we're all working towards the same goals.
Our Commitment To You
Work anywhere. You can choose where you work on a daily basis. This could be your bedroom, a shared workspace, cafe or campervan. Anywhere that makes you happy, healthy and productive, while meeting your responsibilities and staying legal (e.g. from immigration).

Flexible hours. You can choose the exact hours or timezone you work, while meeting any commitments and deadlines. If you start early, it's OK to finish early. If you like to work late, it's OK to sleep in. We're all adults, and we trust you to manage your own time and deliverables.

Desk when you need it. We will maintain an office 'presence' in San Francisco. You have a desk here when you need it. If you want to work from a coworking space, we can help support that.

Face time where possible. We'll aim to get together in real life where budget and timing allows.
Your Responsibilities
With great flexibility comes great responsibility.
Remote work is not a holiday, and we've seen the opposite is often more likely true (overwork). That said, we need to maintain high expectations, and balance, to make our remote-first culture a consistently high-performing one.

8 hours (on average) a day. This is not a part-time job. We expect everyone working with focus and intensity. Sometimes you may need to work more than this, and on other days you may work less. You have flexibility but we need your full commitment.

Reliable internet connection. We expect you to be working from a connection and environment that lets you be fully productive, including video calls when planned. This is particularly important if travelling.

Open communication. We need everyone to communicate openly and often. Share your progress and goals, never be shy about it – this helps transparency and trust. Communicate your location and availability to the team, early and often. If anything about your work environment (remote or otherwise) doesn't feel completely awesome, it's your responsibility to talk about it (please!). We don't have this perfect and there is always room to improve.

Balance. We expect – and kindly request – you to manage your health, happiness, and work in a way that gives you balance and happiness. Get sleep, take breaks, exercise, enjoy time away from work.
Team Processes
We have designed processes specifically to support a remote-first culture.
Weekly 1:1s. Where possible, any 1:1s should be a video call.

Weekly Working Sessions. If you're working on a shared project, a weekly working session that brings everyone together is usually a good idea.

Monthly All Hands. In the first 10 days of every month we will bring the whole company together for an update. This session is recorded and shared for people who cannot join due to timezones.

Weekly project updates. If you are 'leading' a project, we expect a weekly update including progress against goals, accomplished this week, and focus for the next week. This helps transparency across the team, while keeping us all goal-focused.

Daily status updates. We expect everyone to provide a short status update at the end of their day, focused specifically on what you accomplished.

Shared calendar. When you're travelling, offline, or otherwise doing something interesting – particularly when it impacts anyone on the team – please add it to the shared calendar. This helps transparency and trust.
Tools We Use
We use many tools and software for our internal operations. This is a running list of tools we've invested in specifically to support a remote-first culture.
Slack. Group chat, 1:1 chat, automated updates. It's the nerve centre for almost everything we do.
Zoom. Group and individual video conferences. It's better than Skype, and anything else we've tested so far.
Google Docs. Get shit done here. Over communicate with docs. Add everything to shared folders for transparency.
Asana. Project management, task planning, and meeting agendas. Any shared projects should be scoped in Asana. All meeting agendas (and actions) should be tracked here.
Status Hero. Daily status updates.
Front. Shared inboxes. This is a recent addition that looks incredibly promising to help transparency and seamless remote work, for anyone who sends emails to people on a regular basis.
Thoughts or feedback?
If you want to explore the topic, here are 24 other ideas for how we could remote-first better.
Reply in this doc, or to me personally. I'm passionate about making this the best work environment for all of us, and committed and open to improving it in any way.
–Mike